Trying to get rid of your junk car in Avondale? Worry not, you're looking at the perfect website!
Car Removal: Avondale Reliable Service
We will give you the best car removal service in Avondale and we will get you rid of your car within 24 hours. We have a team of experts that analyse your car's details over the phone once you've given us a call.
They will then assess how much cash your car can be bought for, and will then pick your car up. These cash quotes provided to our customers is absolutely free of cost!.
Get Free Quote Now: 0210583527
Car Wreckers in Avondale
Get a reliable car wrecker in Avondale for free! Moreover, you can easily get cash for your old vehicle up to $8999. A2Z Car Removals will ensure that your car has been analysed in the correct way before offering you a free quote for the same.
We have the best customer care agents that know the exact cost of dismantling your auto-parts.
As car wreckers, we provide the best cash quotes for all our customers. Our job is to get you rid of your vehicle so that we can make use of it. Get in touch with our car wrecking team in Avondale now!
Quick service, Hassle-free Car Removal
We offer the fastest car removal service in Avondale. Our experts will give you your free quote within 2 minutes into your phone call. They will then ask for your acceptance or denial of the cash offer that has been made to you. If you've accepted the quote, we will offer you a free pickup service from your premises.
Your Car, Your Call : Get Free Quote 
It's your car, your address and definitely your call! You tell us where to pick your car up from, you tell us when, and you give us your car details. Your car will only be picked up according to the scheduled pick up time.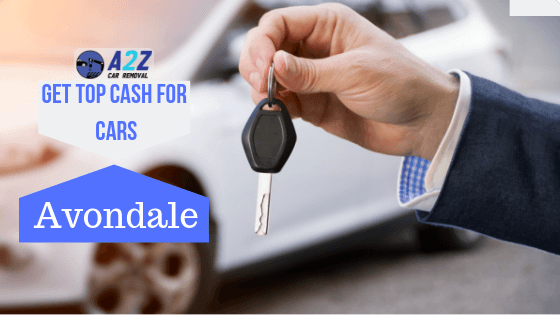 Get Cash for Cars of All Types
Whether it's a Mercedes or a Mazda, we are ready to buy your old car. Junk or scrap, abandoned or unwanted cars, we will buy it from you. If you are selling your car in Avondale, we will give you an instant offer to get rid of it immediately.
We accept calls from people trying to sell cars, vans, trucks, utes, minivans or 4WDs. Get instant cash for a scrap car, truck, van, etc., that has been eating up space in your garage. Selling your old car in Auckland is a lot less difficult because we exist! A2Z Car Removal will take care of your car. Call us now and get that free quote! Call us on 0210583527
Buyers of Unwanted Vehicles
It doesn't matter which condition your scrap vehicle is in, we will buy it instantly. This is why we are the most reputable car wreckers  in Avondale and other suburbs of Auckland. So call us now to get a free car removal done right away! Call us on 0210583527 or you can alternatively fill up our 'Get a Quote' form and wait for us to call you!